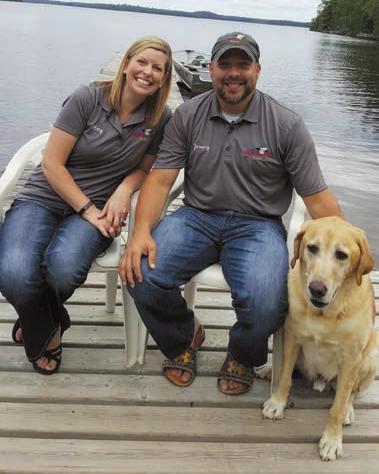 BE OUR GUEST
Let us start out by Welcoming You to Indiaonta Resort! We are the owners and your hosts of this beautiful resort located in God's Country.
Jeremy was born and raised in a small town in Wisconsin where he developed a passion for all things outdoors. Jeremy is an avid bowhunter who can be found chasing everything from bugling elk in the mountains, to the rutting bucks of the Midwest. Jeremy's father was first introduced to the Seine River system back in the late 60's when he made his first trip to Canada fishing. That first trip left such a great impression on him that they returned many times to fish this beautiful river system. Growing up listening to the stories stuck with Jeremy, who would eventually make many trips to the same area to fish and bear hunt.
Amy grew up in small town in Iowa. At a very young age, Amy had a passion for business management. After graduating from the University of Iowa, Amy began her career in Retail Management. Her passion to talk and connect with people helped her excel and advance. After many years of Retail Management, she decided to pursue a new, challenging career in Finance. During her career, Amy often dreamed of owning her own business.
In 2017, an opportunity to own a resort in Canada became available. After much consideration, they decided to follow their hearts, leave behind their corporate careers and pursue their dreams. It was the perfect opportunity for the couple as Jeremy would get to spend his days submerged in the outdoors, while Amy's dream of owning her own business became reality.
Our new passion is to share this breathtaking area with as many people as possible. We take your vacation very serious, as we strive to give every guest the best experience possible. We hope you are able to visit Indiaonta Resort, where you come as guests, but leave as friends!